European Set Theory Conference 2022 | Registration and Call for Contributed Talk are open
Published:
Monday, February 14, 2022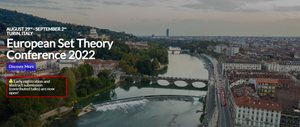 The European Set Theory Conferences is a series of biannual meetings coordinated by the European Set Theory Society (ESTS).
This year's edition is organized by the Department of Mathematics of the University of Turin together with ESTS and AILA, in partnership with the Clay Mathematics Institute.
It is the most important conference in set theory (mathematical logic), and gathers the worldwide leaders in the field.
During the event, the prestigious Hausdorff medal will be awarded to the most influential work in set theory published in the preceding five years.